Well, I must say, it is wonderful to be back at home. Arrived in Adelaide, greeted by a happy dog and a cold-ridden husband.
No sooner have I arrived and started to get my bearings when I've had to book more travel. So it's hello to the Knitter's Day Out 2011. I'll be in the USA for a shorter time this year. After last year (which included broken bones) I'm sticking closer to the home base. That, and I've committed to some activities in Oz that require more than a virtual presence.
In the meantime, after sorting through the yarn and fibre that's returned from on the road (well-cared for of course) it's time to have a lone hank/orphaned ball sale this Sunday at the Port Markets. That's right, you may have a good home for some of these yarns and fibres. They just want to be loved and given a bit of attention.
All lone hanks/show orphans will be marked down on sale this Sunday only.

Online: the Karaoke, SMA, Jazz, Infatuation, and Bamboo are now correctly stocked. I had to make sure the numbers were correct after doing the Melbourne Fair. There's  only a bit of the SMA still in stock — it's too much fun this stuff, but more is happily on the way! Lots more.
Yarn Issue 23 for September includes 2 patterns from Stranded In Oz In addition to the SOCK issue, there's a free set of bamboo sock knitting needles to make the cover sock. Pre-order your copy today, along with some Stranded In Oz sock yarn!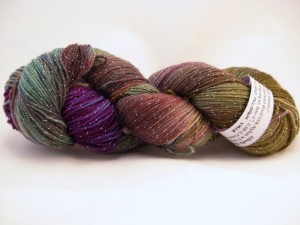 Glinda – Wild McLaren Vale
Thank you to Vellan for sending me the above lovely picture of some Glinda from the Bendigo Sheep and Wool Show.
CU at the Port Markets and online, Melissa