First, a big thank you to the people at SWTC, Inc. and Yarnzone. I had a wonderful time with the beautiful Jonette and the incredibly SWTC yarn and customers. A big thank you for their support of my fibre art and humble huge thanks to the customers who bought SIOz from Yarnzone!
Here are some pictures of what they saw when they visited us!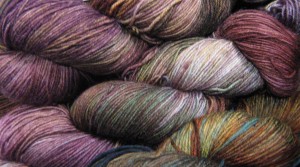 Happy Little Mitey Sock
Can't wait to see what gets knitted from all the yarn! Especially excited to see what the new Party Wraps look like knitted in SWTC and SIOz yarns.
The Party Wrap is in this new issue of YARN Magazine. Stay tuned for information on the yarns used to create your own Party Wrap!
And finally, check the previous blog post for contact and ordering while I am on the road. Will be back in Adelaide in a few weeks. But, in the meantime, be sure to check out the website or the Port Markets on Sunday for Stranded In Oz!
Melissa